History - The Past Revisited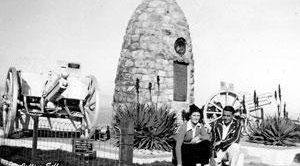 "Above all, hospitality means listening to the story of the person who gladly wants to talk about that which moves him, which makes him happy and sad, which he hopes for and fears, which brings him security or fear, which hinders him from living an open-minded life: you are close to him, in touch with him."
- V. Deschacht
Mystery and romance surround the original building. In those days it consisted of two stone and clay fisherman's cottages built in 1875 in the vernacular style by Swedish boat builder, John Louis, who later became known as Swede Wessels when he adopted the surname of his sweetheart, Martha Wessels.
Theirs was a great love story: Martha's husband disappeared without a trace and as his death could not be confirmed, she and Swede could not marry, but they were very happy together – she and her daughters in one house and he in the other.
A Mr Overbeek donated a cypress tree to Wessels, which was planted in the front garden and became a renowned landmark until it was destroyed in a storm many years later.
In 1928 Miss Ethel Rubery from England bought the property and started the "Cypress Tea Garden". Miss Rubery was well known in the area for her charity work in the community.
After being a Hermanus landmark for decades, the Cypress Tea Garden was converted into "The Burgundy Restaurant" in 1987 by Tim Hamilton Russell, who pioneered Burgundy style Pinot Noir and Chardonnay wines in this area.
The dedicated team presently responsible for The Burgundy Restaurant is proud to be part of this living part of Hermanus's history and be the keeper of the high culinary standards, locals and patrons from all over have come to expect of this special restaurant.
It is the oldest building in Hermanus and some of the original floors and windows still exist. In 1968 a fact- finding committee was formed to save the Cypress Buildings from being demolished and this resulted in the buildings being declared a National Monument.